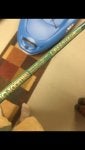 GLoomis rods for sale. Located in Biloxi. Text or call for more information and pictures. 228-2zero9-721zero.
1) G Loomis GL2 Jig & Worm Bait Casting Rod. Rod is split handle cork with Fuji reel seat and guides. Model number is GL2 854C. Length is 7'1" and it is rated for 5/16-3/4oz lures with 14-20lb line. Rod retails for $225. Its is brand new, never even had a reel on it. Asking $150.
2) G Loomis Pro Green Spinning Rod. Model number PGR883S Med-Heavy. Fast Action. Length is 7'4" and rated for 8-15lb, 3/16-5/8oz. Rod retails for $255. It is also brand new. Asking $170.
3) G Loomis Greenwater Spinning Rod. Model number GWPR842-S. Length is 7' with a Med-Light and a Mod-Fast action. Rated for 6-12lb, 1/4-1/2oz. Retails for $240. This rod has been used only a handful of times. It is still in excellent, like new condition. Asking $150.